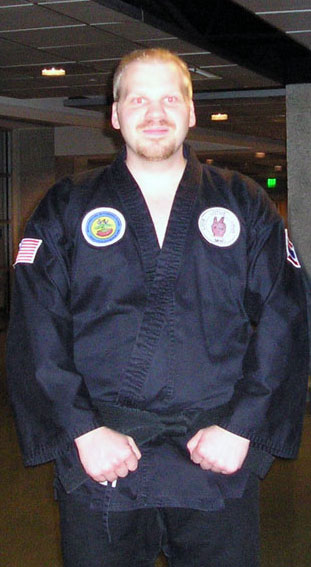 Tucker, a child of the 80's, grew up watching action movies starring Steven Seagal, Chuck Norris, Jean-Claude Van Damme, and others. So it was only natural to join Lotus Self Defense when Mack Petry opened his class in Lafayette, Louisiana on March 2, 1995. Tucker attended classes in both Lafayette and Abbeville, and earned his black belt on October 3, 2003.
Since then, Tucker has traveled to Atlanta, Georgia (January 2005 and February 2009) to train with Michael Weeks, Larry Clark, Jack Gentry, and Erik Wyman, as well as Spokane, Washington (May 2005) to train with Roy Harrington and his black belt students. In October of 2013, Tucker traveled to Thailand to train with Ajarn Precha Mahachanavong.
Tucker has also studied Yoshinkan Aikido under Sensei Allen Curry in Huntington Beach, California. Tucker has taught Lotus Self-Defense, knife and gun disarming seminars, and ground fighting seminars to law enforcement, military personnel, and to martial artists. He has also authored several martial arts and self-defense articles, to include an adventure novel inspired by the true events surrounding the disappearance of his great granduncle in World War II, "The Reawakening of Mage Axum."
Tucker graduated from the University of Louisiana at Lafayette with a Bachelor of Science Degree in Criminal Justice. In 2012, he earned his Master of Arts Degree in Organizational Leadership from the University of Oklahoma. Outside of work and Lotus, his passion is flying. He holds a FAA Private Pilot's License with multi-engine aircraft and seaplane ratings. More information is available at www.tuckeraxum.com.
Tucker's 10 Commandments for Combat